May 3, 2023
Rachel Furness: Bristol City midfielder on winning successive Championship titles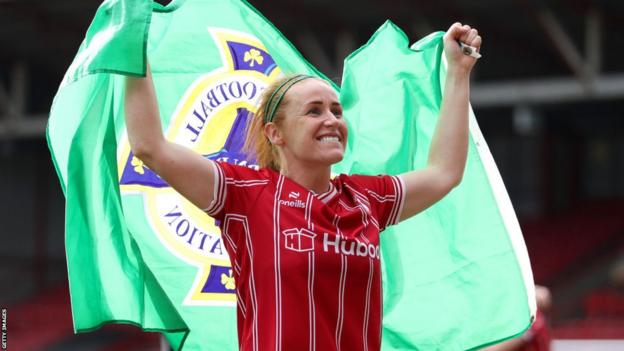 When Rachel Furness celebrated winning the Women's Championship with Bristol City at Ashton Gate last month it was a serious case of deja vu.
Twelve months earlier she had experienced the same promotion feeling, at the same ground – but with a different team.
The Northern Ireland midfielder helped Liverpool beat Bristol City at Ashton Gate a year ago to secure promotion to the Women's Super League (WSL).
Furness, 34, left the Reds in January in search of more game time, hoping to use her experience to drive Bristol City to success against stiff competition in the second tier.
It paid off as City won the league in front of a record crowd of 7,045 at Ashton Gate with one match to go, sitting four points clear of Birmingham City in second.
"To do it at home in front of a record crowd was extra special," the midfielder told BBC Sport.
"The league was going down to the wire and the pressure was on. The squad is so young and inexperienced and hadn't been in situations like that before.
"I was just really proud. Yes, for myself doing it back-to-back was an amazing feeling, but having worked with people at this club, I felt they deserved it."
'It's two completely different feelings'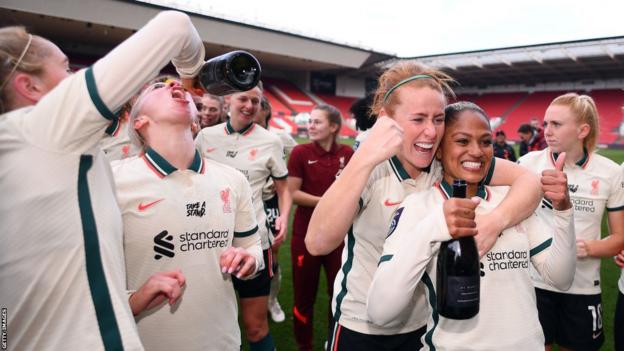 Since their promotion to the WSL, Bristol City have confirmed the women will play all their home matches at Ashton Gate next season.
It is the latest move which indicates the club's growing support after closer integration with the men's team was forged when the women moved to the High Performance Centre training base to share facilities.
Former England defender Anita Asante joined the backroom staff last summer, while manager Lauren Smith has steadily built a strong squad through smart recruitment and development.
When the club were relegated in 2021 it seems to have acted as a wake-up call, not dissimilar to the situation at Furness' former club Liverpool, where they had received long-overdue backing before their title win in 2022.
So how did the successes compare for Furness?
"It's two completely different feelings. Liverpool were expected to do it last year. We had the squad, the money and there was an expectation at such a massive club," she said.
"If we didn't win it, it would have been such a disappointment. There was relief in the Liverpool promotion.
"But at Bristol City this has been the most competitive Championship season that we've had and it went down to the wire. Teams are getting stronger, which is making it even harder.
"I came in to try and have an impact with my experience, having been there before. It was a different feeling but I'm just so proud I'm sat here with another medal. I very much felt a part of everything we managed to achieve."
'I hit rock bottom a few months ago'
Memories of Liverpool's 4-2 win over Bristol City a year ago were in Furness' mind as she prepared for the decisive game, and she hoped sharing the experience would help her team-mates.
"I don't know if the girls really appreciated me bringing it up but I said I had great memories at Ashton Gate and loved playing there," said Furness.
"Maybe I put myself under a bit more pressure in the last few weeks to get us mentally ready for the game. I was just so excited.
"This is why you play football, for moments like this. We were very privileged going into the final two games of the season with something still to play for."
City's success capped a rollercoaster year for Furness who has had ups and downs for both club and country.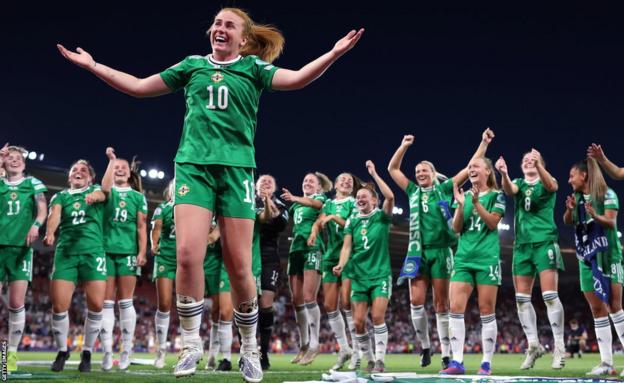 She helped Northern Ireland qualify for their first major tournament at Euro 2022 but took a step back from international duty in August for personal reasons.
That coincided with a period at Liverpool where Furness was struggling for minutes and had niggling injuries, before a last-minute January switch to Bristol City meant she had to uproot her life to south-west England.
"I've learned a lot about myself in this last year, probably more off the pitch. It has made me more resilient and more grateful for these moments," said Furness.
"I'm 34 now and I hit rock bottom a few months ago. It doesn't matter where you are in your football career, it can happen. Football is a rollercoaster. There are highs and lows.
"I'm just trying to enjoy it while I'm still in it. If I can learn something from those lows then brilliant. I love football, I breathe football and it's never plain sailing. I'm OK with that."
Furness is out of contract in June and does not know if she will remain with City next season in the WSL.
"I've loved my time here. What will be will be, but I want to play next season. I'm still hungry and still feel I can give something," she said.