April 7, 2023
Yoshimura SERT Motul On Track For 2023 Challenge
Yoshimura SERT Motul is in a confident mood as the team prepares for the opening round of the 2023 FIM Endurance World Championship; the 24-Heures Motos, at Le Mans over the weekend of the 15th and 16th of April.
Fifth quickest in the official EWC Pre Test timings at the Bugatti Circuit, with a fastest lap time of 1m35.672s – more than half a second faster than in last year's test sessions – the Le Mans-based Yoshimura SERT Motul is focussed on a third successive 24 Heures Motos victory.
Etienne Masson returns to SERT for 2023. He is no stranger to EWC success as, together with Yoshimura SERT Motul team-mate Gregg Black, he helped SERT win the Endurance World Championship in 2019/2020. This pairing, together with the widely experienced Sylvain Guintoli, will form a formidable line-up.
During the winter months, the resourceful Japanese/French collaboration of Yoshimura and SERT continued to seek and implement improvements where necessary, with new parts and settings. However, with a proven package in the Suzuki GSX-R1000R, a highly-skilled technical team and faultless pit crew, Yoshimura SERT Motul remains largely unchanged for the upcoming EWC race season.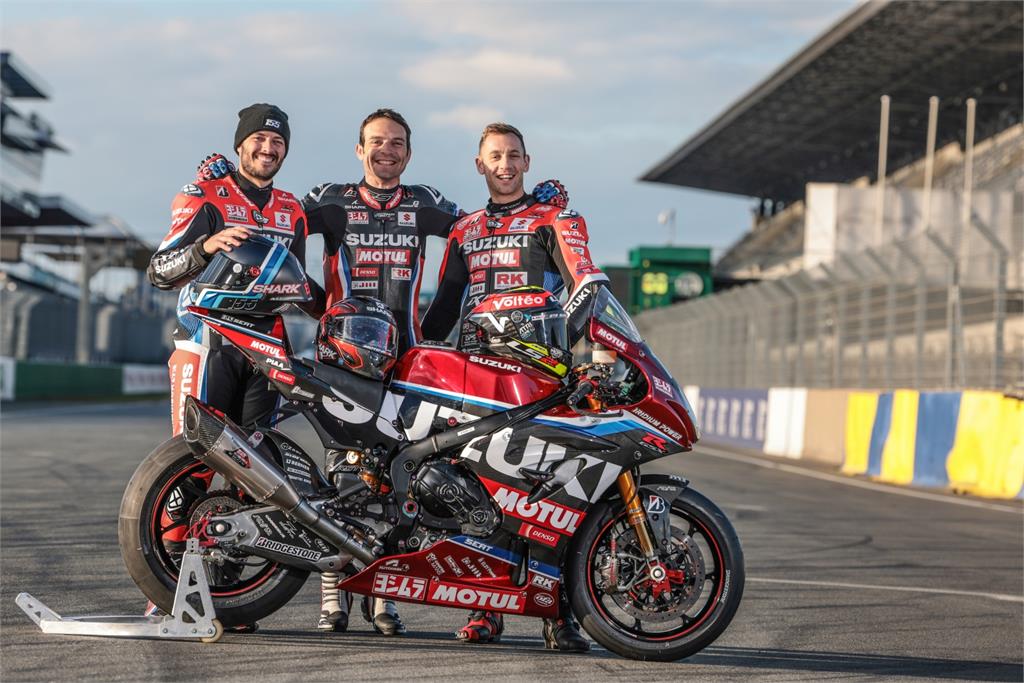 Yohei Kato, Team Director;

"We now have two years' experience in EWC with, Suzuki, Yoshimura, SERT and Motul, and we approach the 2023 season with high hopes and confidence in our riders and the team as a whole.
"In our first year in 2021, we dominated the championship. Then the other teams improved and went faster – we could see that in 2022. It is vital that we continue to develop, as the championship is far more competitive now. Our base model Suzuki GSX-R1000R is not changing, but we have updated the machine with some new parts.
"The recent tests in Jerez and Le Mans have highlighted the improvements with better lap times, and we have received positive feedback from the riders and crew, but we never stop looking at the race pace and we're always focussed on being ahead of the game. For instance, we have found a way to make our super-quick pit stops even better.
"Etienne has already put in good lap times and shown his ability and skills. We are all happy to work with him. And, with Gregg and Sylvain we have a strong team of 24-hour race specialists. My target is to win all three 24-hour events this year, and to have three riders at Suzuka …. Bring on 2023!"
Damian Saulnier, Team Manager;

"At the end of the 2022 season, Suzuki's future in motorcycle racing was uncertain. Fortunately, Yoshimura was able to find a solution with Suzuki Motor Corporation to continue the adventure. The four entities, Yoshimura, SERT, SMC and Suzuki France have found a balance to participate in the 2023 Endurance Championship. Our historical partners, including Motul, have also renewed their confidence in us.
"Our line-up of riders form a solid and equal trio. Etienne had a real desire to return to our team and ride with Sylvain and Gregg. The riders already knew each other very well and, very soon after the first tests, the communication between the riders was constructive and their feeling about the bike was the same. This trio will be a real asset for the championship.
"The GSX-R1000R is a reliable and efficient bike that has already shown its capabilities in endurance racing. Yoshimura has not stopped improving it. There has been a lot of work done this winter, both on the bike and with the technical team. We always talk about the bike but inside the structure, we have been looking for solutions to improve the refuelling, the installation of the pit box, etc. We always strive to be the most efficient on the track and in the pit. The goal is to spend as little time as possible in the pits. Of course, the bike must progress during the winter break but the technical structure must evolve too.
"We are looking forward to opening the championship with the race in Le Mans because it's a local race in front of our family and friends. It's also a race where we must not make any mistakes because everyone is watching us.

"Looking ahead. We are returning the 24 Heures trophy, after two consecutive victories. But, we intend to bring it back home with a third victory. We also have our sights set on regaining the championship title that escaped us last year."
Gregg Black;

"It feels great to be back with the team. I wasn't too sure how it would end with Suzuki last year and I had a few approaches from other teams. However, my priority was to stay with Yoshimura SERT Motul as it is one of the very best teams and has the most experience, particularly with winning.
"It's been a long winter and, even though I kept riding on a range of different bikes, six months was a long time without being on a proper race bike. So it was great to jump back on the GSX-R at the Jerez track and get the feel for it almost straightaway.
"The bike hasn't changed hugely – it didn't need to. Bridgestone has been working closely with Yoshimura and SERT over the off season, and a slight change to the tyres and small technical changes have made an important difference and allowed us to get more out of the already-good package.
"It was interesting to see how the bike reacted to the new settings on the Bugatti Circuit. It worked really well. This has given us confidence, as everyone's pace has picked up and it looks like it's all going to be very close.
"It's going to be competitive, but I've been teammates with Etienne over many years and obviously have been with Sylvain for the past two. We all have experience of winning and will apply our knowledge and speed to winning the EWC title again this year."
Sylvain Guintoli;

"It's a relief that we can carry on with this team and this adventure in World Endurance with Yoshimura, SERT and Motul. We are all happy that the challenge can continue with a team that has a vast amount of experience, knowledge and confidence.
"I know Etienne, but have never been a teammate with him. Like Gregg, he has a fantastic history of winning with SERT, so it's like he's coming home. We have loads of experience between us, which makes us a strong team.
"We've had a good couple of tests and everything is going well. I'm looking forward to Le Mans as, even though we have won the last two editions, there is no pressure. It's a hard race and we just need to pace ourselves and keep our one hundred per cent record. It's not easy, but we'll go for it and aim to get the number 1 plate back."
Etienne Masson;

"I feel really good on the bike and in the team. The team spirit is perfect and I have enjoyed every day of testing.
"The GSX-R1000R performed really well during the recent tests. The main change since I last rode with SERT in 2020 is the involvement of Yoshimura, and the switch to Bridgestone tyres. It is still a great package, with excellent handling.
"It's a pleasure to be back riding with Gregg as we have already won races together, and I'm really looking forward to riding with Sylvain too. I'm sure this is the beginning of a successful and long story.
"Everything is designed to win and I'm really confident for Le Mans. The bike and the team will be ready to fight."
EWC teams will get one final testing opportunity at Le Mans on the 11th of April before official track activity for the EWC season-opening 24 Heures Motos gets underway on the 13th. The demanding 24-hour race begins at 3pm CET on Saturday the 15th of April 2023.