April 6, 2023
Forget the Mean Girls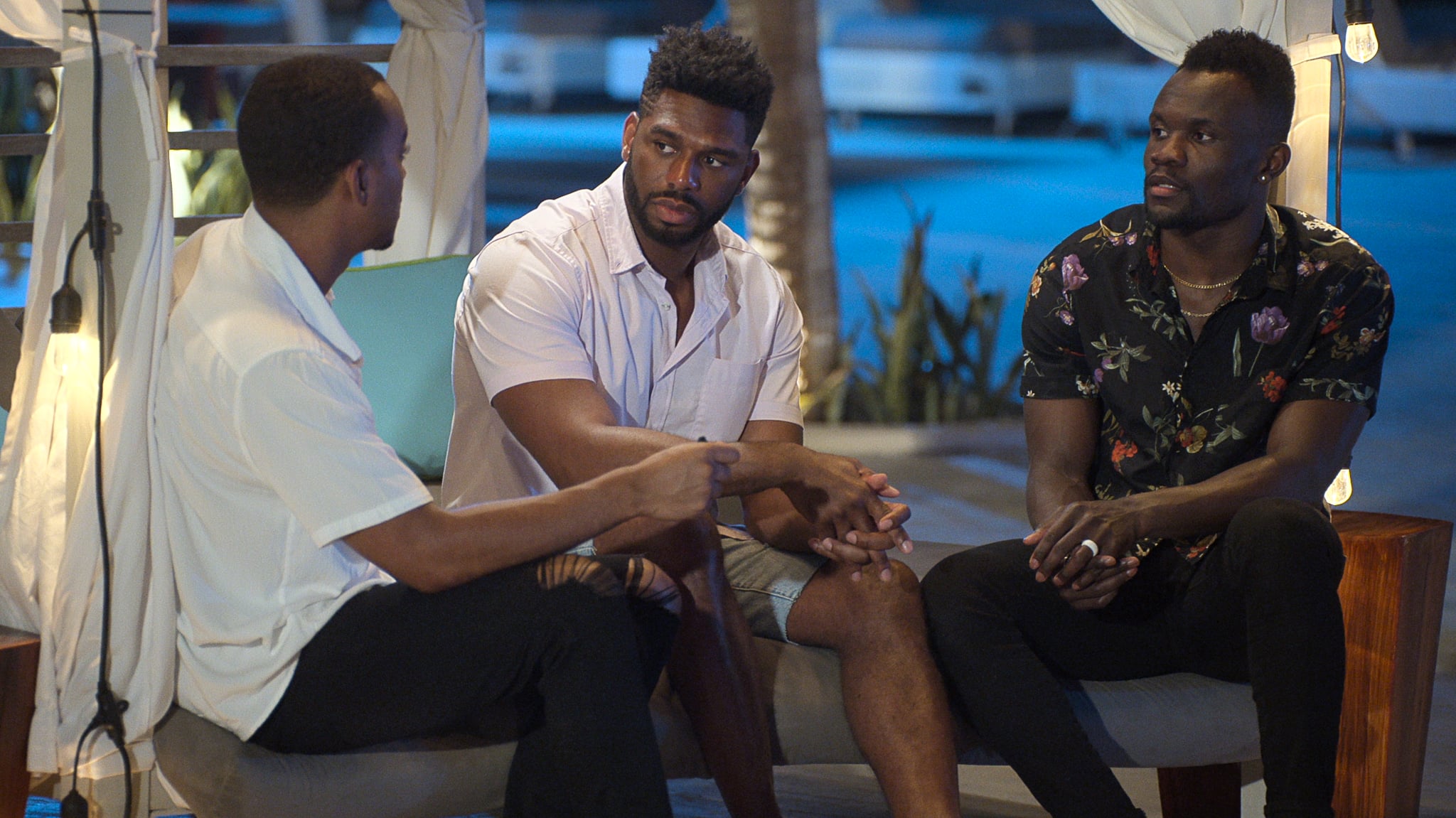 Image Source: Netflix
Between endless TikTok hot takes and Instagram apologies surrounding "Love Is Blind" season four, it feels like the internet has exhausted the conversation around mean girls Micah Lussier and Irina Solomonova. But amid the villain drama, what isn't getting enough attention is the healthy relationships among the male contestants this season.
Since Brett Brown, Marshall Glaze, and Kwame Appiah formed a trio in the pods, viewers have enjoyed seeing their genuine friendship play out on screen, particularly given all three are Black men whose vulnerability is not often portrayed as a strength both on TV and in films.
"Not a lot of guys that look like us talk about stuff like this to each other."
During one heartwarming scene in Mexico, Brown talked to Glaze and Appiah about his feelings for fiancée Tiffany Pennywell. He said "love" is an unfamiliar word in his family and expressed his desire to change that and continuously affirm his love for Pennywell in the future. "Not a lot of guys that look like us talk about stuff like this to each other," Glaze said in response. "We gotta set the example. We gotta set the precedent that it's OK to talk about your feelings and tell people that you love them." Glaze himself has been candid about his emotional vulnerability as a man and the stigma that comes from it, even from his own fiancée.
In another brotherly moment at Chelsea Griffin's birthday party, Glaze got real with Brown about his troubles with Jackie Bond. Before Brown launched into his advice, he thanked Glaze for opening up to him, affectionately placing his hand on his friend's shoulder. At the same event, we also saw Paul Peden and Zack Goytowski form a bond of their own, with the latter taking accountability for his decision to choose Solomonova over Bliss Poureetezadi. It's certainly a contrast from party scenes in previous seasons, where male cast members were often seen joking and laughing about their sexual experiences with their partners.
These sweet interactions now have fans rooting for Brown and Glaze's friendship more than any other couple in the season. "My favorite couples are by far: Paul & Zach and Brett & Marshall," one Twitter user wrote, while another said, "Honestly, the brotherhood between Brett & Marshall is my favorite connection so far. Two vulnerable, black men who lean on each other sensibly."
Of course, the men on "Love Is Blind" aren't perfect (we're looking at you, Josh Demas), but most of them have displayed an emotional maturity that we have yet to see on previous seasons of the show, let alone on reality television. Perhaps it's palpable against the backdrop of the pod drama among the female cast members, but regardless, it's refreshing to see these men open up to and lean on one another, developing what look to be deep friendships while unpacking complex emotions together.
To the producers: more of this, please.