April 16, 2023
After 16 Hours: F.C.C. TSR Honda France makes it through tough night leading in EWC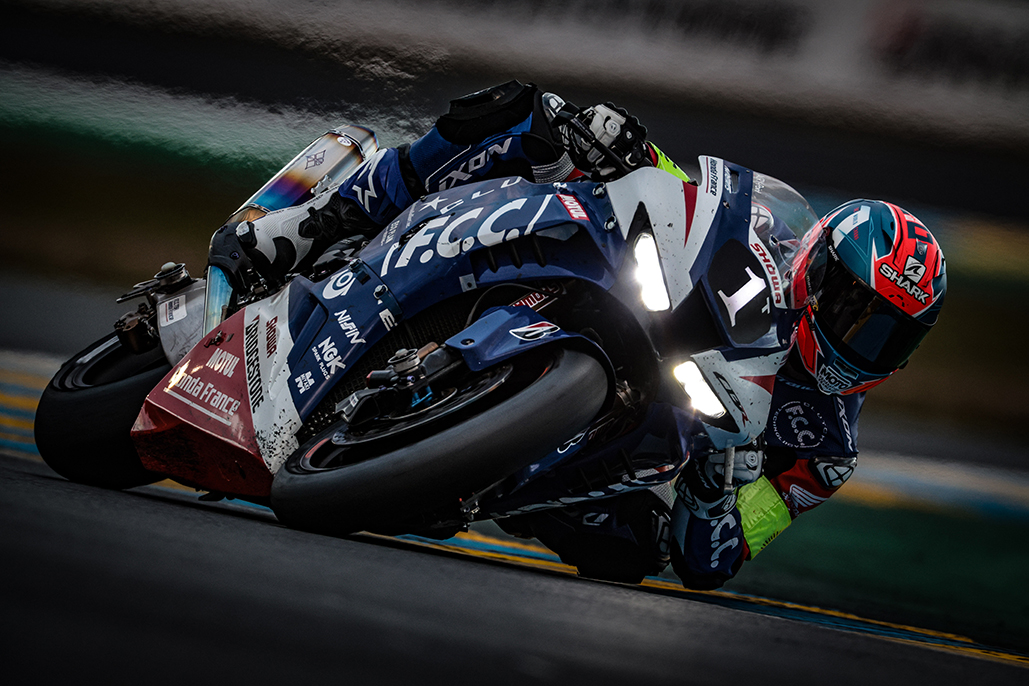 F.C.C. TSR Honda France and Tecmas-MRP-BMW Racing Team have made it through the night on top in the Formula EWC and Superstock categories of the 24 Heures Motos, the opening round of the 2023 FIM Endurance World Championship, respectively.
And with 16 hours of the hugely demanding day and night race in Le Mans reached at 07h00 CET, the second set of bonus points have been allocated with 10 points going to the leader of each class with eight hours of action still to run. Meanwhile, the teams in positions second to 10 also score points on a sliding basis.
Racing through the night is always one of the most demanding aspects of the EWC, but the challenge was increased significantly during the 46h running of the 24 Heures Motos as ambient and track temperatures plunged to a little more than freezing. Smoke from the packed campsites close to the track also meant visibility was compromised at certain stages.
Behind the leading F.C.C. TSR Honda France squad of Mike Di Meglio, Josh Hook and Alan Techer, ERC Endurance Ducati (David Checa, Chaz Davies and Philipp Öttl) was a strong second at the 16-hour mark with YART Yamaha third in the overall order.
However, there was drama for the Austrian YART squad when Hanika crashed on oil deposited by Maco Racing Team's faltering Yamaha at 04h41. The Aviobike Superstock category Yamaha was one of two bikes caught out by the oil and crashed into Hanika's stricken #7 entry as it lay on the ground. There were no injuries, but a lengthy safety car period ensued while YART Yamaha suffered further delay in its bid to make up lost time from a brake caliper issue earlier in the race.
Other incidents in the night included a crash for the TRT 27 Bazar 2 La Bécane entry at 03h04, which resulted in another safety car intervention. The Honda Viltaïs Racing bike was also delayed by a crash during the night, which resulted in a pit visit lasting some seven minutes. A crash also delayed Pit Lane Endurance and ultimately led to the French team's exit, while Team Louit April Moto, which started the Dunlop-equipped Superstock category on pole position, retired following a crash. Last season's FIM Endurance World Cup title winner Team 18 Sapeurs Pompiers CMS Motostore was forced out by a mechanical issue shortly after 02h00. EWC newcomer KM99 was delayed by another fall at 06h41.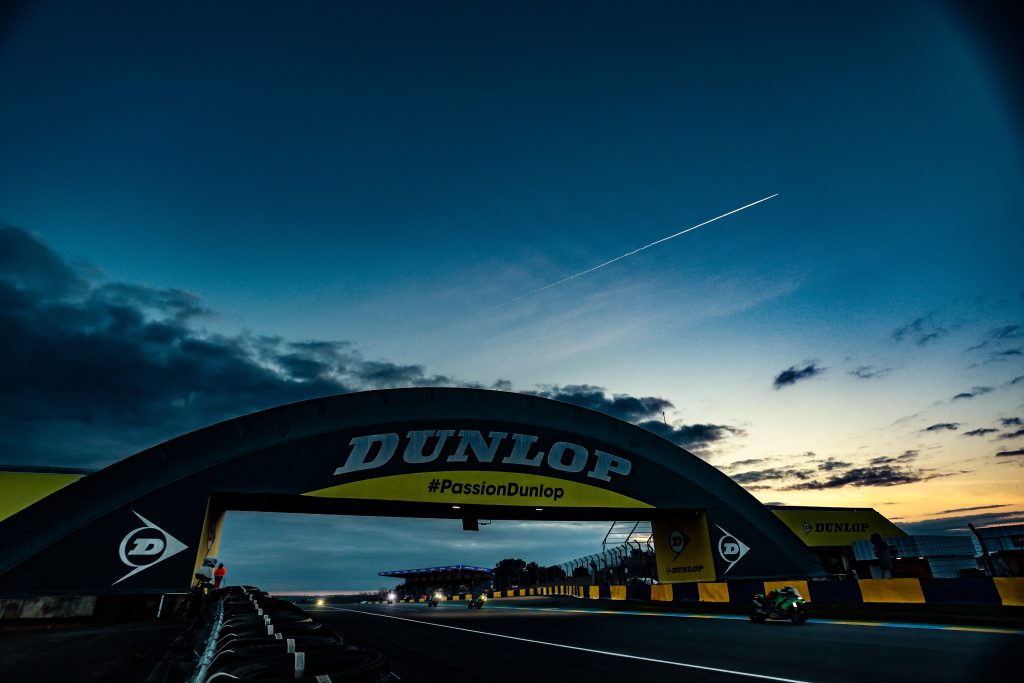 BLACK NOT GIVING UP DESPITE BIG CRASH DAMAGE IN EWC

Gregg Black insists giving up was the last thing on his mind when a first-lap crash all but ended Yoshimura SERT Motul's hopes of a third consecutive 24 Heures Motos victory. The FIM Endurance World Championship ace's lead from pole position lasted until the Dunlop Chicane when a brush with Josh Hook's F.C.C. TSR Honda France entry sent him crashing spectacularly. While his Suzuki GSXR 1000 was badly damaged, Black was uninjured and was able to limp his bike back to pits where his Le Mans-based team could carry out extensive and time-consuming repairs. "I'm gutted for the team and myself, it's a 24-hour race and we know it's long," said the 34-year-old British-born rider. "I got a good start, I was going into the first corner in the lead and I think it was Josh, maybe he just carried too much speed in the corner and hit me. It was a big consequence because we crashed and the bike was quite badly damaged. We lost a lot of time but the race isn't over, we've got points to score and we'll be strong and will come back." With 16 hours run, Yoshimura SERT Motul is in 13th position.
EWC STAR REA GETS A GUARD OF HONOUR PRIOR TO LE MANS LAP

Gino Rea received a guard of honour from his FIM Endurance World Championship rivals and their teams prior to the start of the 24 Heures Motos earlier. The Briton was back in action eight months after suffering serious head injuries in a practice crash prior to the 43rd Coca-Cola Suzuka 8 Hours Endurance Race in Japan last August. After leaving the grid Rea was clapped and cheered towards the Dunlop Curve before completing a lap of the Circuit Bugatti on a F.C.C. TSR Honda France-branded road bike. "It's very nice being here and being here with the team," Rea said afterwards. "It was very nice to do my parade lap but it also makes me want to be here with my leathers and racing so it's difficult." Rea, who is still recovering from his injuries while he regains full fitness, hopes to race in the next year's 24 Heures Motos.
For more info check out our dedicated Endurance World Championship News page Endurance World Championship
or visit the official Endurance World Championship website fimewc.com