April 23, 2023
Samsung Galaxy Z Flip5 and Galaxy Z Fold5 tipped to launch sooner than expected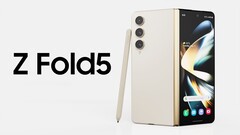 According to a leaker, Samsung will start mass producing its next-generation foldables a few weeks earlier than last year. While mass production is still expected to begin in June, the Galaxy Z Flip5 and Galaxy Z Fold5 could launch sooner than expected as a result.
Last week, Ross Young shared new details about mass production dates for the Galaxy Z Flip5 and Galaxy Z Fold5, Samsung's next-generation foldable smartphones. Writing on Twitter, Young claimed that Samsung Display will start shipping display panels next month with a view to Samsung Electronics mass producing both devices in June. However, the display analyst alleged that there would be similar launch timings as the Galaxy Z Flip4 and Galaxy Z Fold4.
According to a recent tweet from @Tech_Reve, an account known for sharing reliable information about upcoming Samsung products, this may not be the case. Apparently, mass production of Samsung's new hinge designs will begin at the start of June, a few weeks earlier than usual. @Tech_Reve adds that Samsung waited until the end of June last year before commencing equivalent mass production for the Galaxy Z Flip4 and Galaxy Z Fold4. @Tech_Reve alleges that the extra few weeks of mass production time may allow Samsung to release the Galaxy Z Flip5 and Galaxy Z Fold5 in July, rather than in the first third of August like their predecessors.
While this remains speculation for now, it suggests that Samsung is keen to bring next-generation foldable devices to market as soon as possible. Potentially, Samsung could have more competition from Oppo and Vivo this year, although it remains to be seen whether either will release the Oppo Find N3 or the Vivo X Fold2 globally. Likewise, the Galaxy Z Flip5 will have to contend with the Oppo Find N2 Flip, Vivo X Flip and potentially two Motorola clamshell foldables too, which are now expected to launch as the Razr 40 Ultra and the Razr Lite globally.
Alex Alderson – Senior Tech Writer – 7779 articles published on Notebookcheck since 2018
Prior to writing and translating for Notebookcheck, I worked for various companies including Apple and Neowin. I have a BA in International History and Politics from the University of Leeds, which I have since converted to a Law Degree. Happy to chat on Twitter or Notebookchat.
Alex Alderson, 2023-04-21 (Update: 2023-04-21)